Convert your visitors into customers with popups.
Popupfox is 100% compatible with Shopify. It is a top-notch choice to interact with the visitors of your Shopify store. Boost your Shopify sales within 2 minutes!
LAUNCH THE BUILDER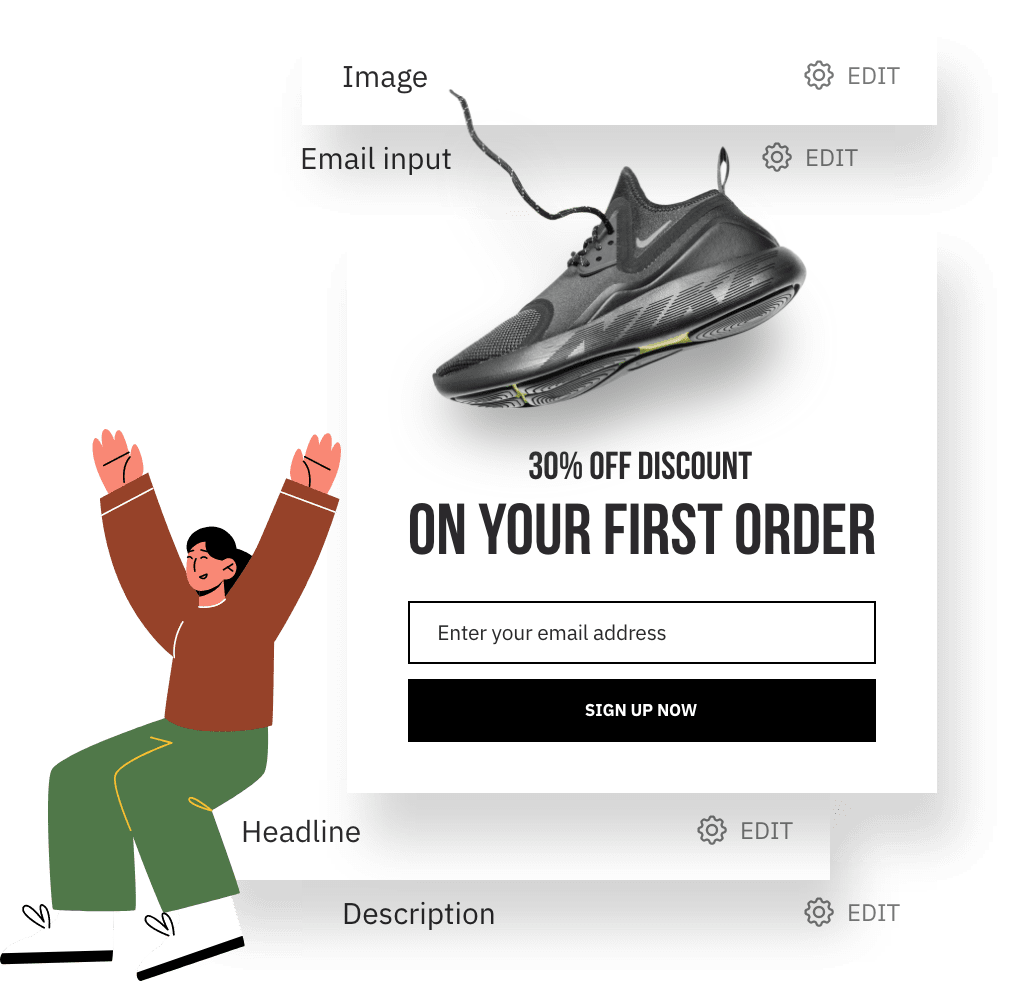 ---
Advanced Features
The advanced features of Popupfox popups add value to your website and improve the growth of your business significantly. We offer you more and better.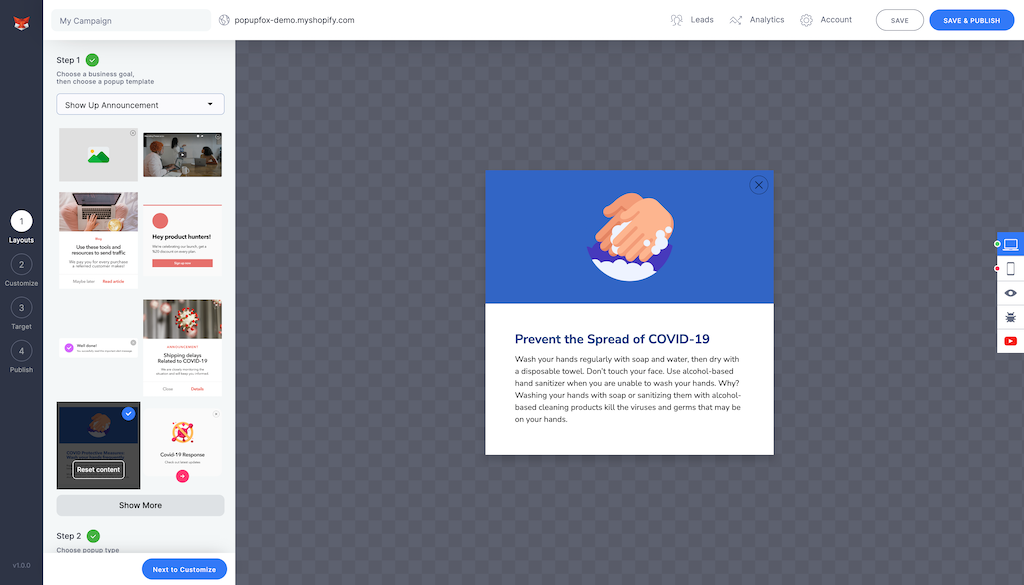 No skills needed with a simple no-code interface
No need for coding or design skills to have a custom popup. Simply create your design and integrate your popup to your website easily. It only takes 2 minutes.
Try for free »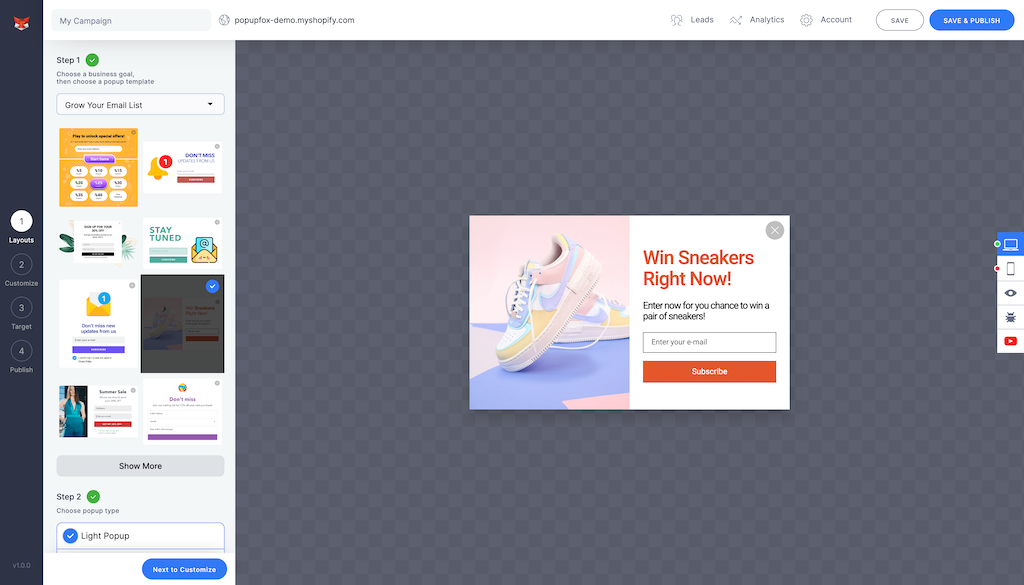 Pop a popup and get excellent conversion rates
Be sure that your visitors take the action you desire. It's easy to convert your website traffic into leads and sales. Increase conversion rates and boost your sales with optimized popups.
Try for free »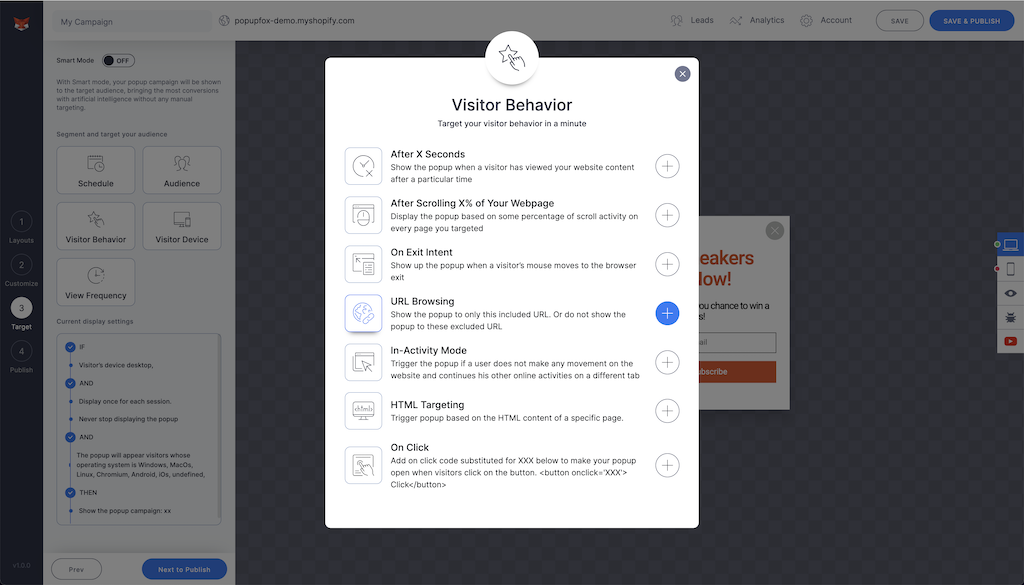 Decrease cart abandonment with exit-intent popups
Keep your visitors when they are about to leave your website. Decrease cart abandonment, increase sales, interact with your visitors, and get the information you need with exit-intent popups.
Try for free »
What you get with Popupfox
Customize fully responsive, targeted, and optimized popups! Create unique marketing campaigns in minutes. Here is why you should opt for Popupfox!
Popupfox is SEO-friendly. They do not affect the speed of your website.
We offer you over 70 key-ready templates. You don't need any coding or design skills.
If you're not satisfied, we guarantee a full refund within 30 days of purchase.
We provide 24/7 email and live chat support. You don't have to worry about surprise errors.
Conversion ready popups. You can convert visitors into customers in 2 minutes.
Integration with more than 50 services.
Do I need to have coding or design skills to use Popupfox?

No, you don't need to have coding or design skills to create stunning popups with Popupfox. We have made the popup design process as simple as possible for you. To do so, select what you desire from the design options and add the code that the system generates to your website. As long as you follow our instructions, you can create a conversion-optimized popup in 2 minutes without any special skills.

Why should I choose Popupfox?

We believe that each website is unique and has different requirements. Because of this, we have provided a wide range of design options and made the process incredibly simple for you. Unlike many of our competitors, we guarantee that you can design engaging popups in as little as 2 minutes. Besides, it's free!

Does Popupfox affect my website's speed?

No, the Popupfox do not affect the speed of your website. All of the popups you design with Popupfox are SEO-friendly. Popupfox does not have a negative impact on any step of Search Engine Optimization practices, including website speed. On the contrary, popupfox support these practices.
It may be the simplest interface I've ever used. I can't believe I can do this. Seriously! I don't know anything about coding and I thought I couldn't handle this, but it's so simple... I feel like a pro developer. Try it and you'll see what I mean.
Indeed, it took me less than 10 minutes to design and activate a pop-up on my website as promised. I didn't pay any money or give out my credit card info. Just added the code they gave me before the </body> tag and voila! Everything looks perfect. Thank you for making things so easy.
I wasn't sure about using it because there aren't many comments yet, but I decided to give it a shot. I've added a number of pop-ups to some pages of my website, including exit-intent. So far, they're working smoothly. If it won't cause problems in the long run, I may go premium. Feel free to try.
Josephine L.
California, US
Start designing your free popup now!
Designing popups with Popupfox is a breeze! Create engagement guaranteed popups to boost your sales right now!
Try for free
Sign up

Choose your template

Verify your domain

Design your popup & publish

It's ready